Now, more than ever, companies need to get ahead of deal risks to avoid budget cuts, hiring and spending freezes, and other impacts of an unstable economy.
Revenue teams must work harder to coach their sales team on skills like how to handle competitor talk tracks, pricing, negotiation, and building an ROI-driven business case.
They need visibility, focus, and confidence that can only be provided through automated insights that help them identify which deals are a priority and the best next steps to take to drive that deal home. They need one source of truth for sales leaders, revenue operations, front-line managers, and reps.
But what's data if you can't act on it?
To make a real impact, sales teams need this deal intelligence functionality built into an overall workflow where sellers can find relevant content, training, and tips to close deals faster and easier.
The problem: performance pressure
Sales has always been a notoriously high-pressure job.  Sprinkle in an economic downturn that's shrinking prospect pools and budgets. Then, layer in hiring freezes that put more pressure on each rep to drive a bigger slice of the revenue pie, and you've got high potential to overwhelm even the highest performers on your team. That's why it's critical to provide sellers with the help they need the moment they need it. You must make it easy to find the required tools and provide reps with insights that help them personalize the buyer experience and build better relationships.
The solution: revenue intelligence
Revenue intelligence has the power to relieve pressure, not just on sales reps but on entire revenue teams, by providing better visibility, improving team focus, and boosting confidence across the board.
In this article, we explore the ins and outs of revenue intelligence so you can better understand what it is, how it works, and who benefits from it. Here are some key questions this article will answer for you:
Revenue intelligence: what is it and why is it important?
Revenue intelligence provides the deep insights needed to focus sales reps, accurately forecast revenue, and fast-track deals. It gives you complete visibility into your pipeline health and deal risks, such as competitor mentions or objections, so you can provide reps with the coaching, content, and training they need to drive deals forward.
Before the availability of location-based mapping services, such as Google Maps, driving to a new destination was a bit of a crap shoot. Even with a basic idea of how to get where you wanted to go, and a physical map at the ready, an unanticipated traffic snarl or road closure would easily derail your drive and significantly delay your arrival time.
Google Maps changed the game with machine learning and data. It uses various data sources — like satellite imagery, traffic light cameras, and even real-time user feedback — to automatically assist drivers in navigating the fastest route and predict their arrival time with astonishing accuracy.
You can think of revenue intelligence as providing your sales team with a similarly accurate way to reach your revenue goals most efficiently. It's the compass you can count on even as conditions change in real time.
How does revenue intelligence work?
Revenue intelligence builds on conversation intelligence, which is technology that records, transcribes, and analyzes sales conversations, meetings, and emails.
Revenue intelligence uses AI to analyze all sales interactions with a prospect, predict which deals are going to close, and give you a sense of both deal and account health. Conversation intelligence is a component of revenue intelligence.
A robust revenue intelligence solution should:
Forecast sales
Score deal and account health
Surface key insights from calls, emails, and meetings
Identify all at-risk deals
Highlight missed opportunities and recommend next steps
Provide a holistic view of team skills and competencies
Allow reps to curate relevant content for customers in one place
Recommend personalized training and content to uplevel skills
Who benefits from revenue intelligence?
The right revenue intelligence solution takes the pressure off your entire team — from the back office to the front lines.
RevOps team
Practice fact-based forecasting. According to Gartner, less than 50% of sales leaders have high confidence in forecasting accuracy. Revenue intelligence provides robust visibility into teams, deals, accounts, and pipeline, freeing your team to rely on quality data to forecast with confidence.
Understand pipeline health. When you can easily visualize how deals are progressing it's easier to determine whether they'll close on time.
Simplify workflows. Sales teams have tool fatigue. They don't want to log into multiple systems to get their work done (and sometimes they simply don't, which leads to gaps in your data).
The right revenue intelligence solution lets you deliver key functionalities, like sales enablement, content management, conversation intelligence, and coaching, through one integrated platform.
Sales reps
Keep them focused. Your sales reps should be able to see all of their opportunities in one place, including booked, committed, probable, and upside.
Engagement risk scores make it clear who needs to be followed up with most urgently. And the ability to hone in on things, like meetings that have occurred, emails sent, next steps, customer call themes, and in-deal competitive threats, make it obvious where sales reps need to focus their time to achieve their targets.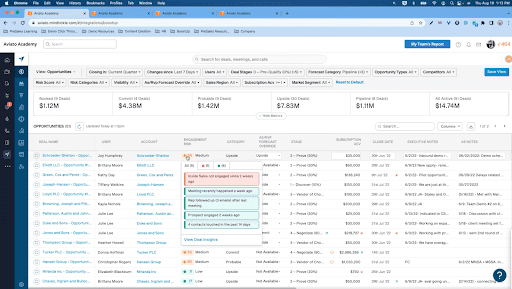 Drive the right behaviors. Your reps must continually train and practice the right skills to reinforce key messages and behaviors. (Learn more about the forgetting curve here.)
Boring, one-size-fits-all approaches won't cut it. Instead, give reps a single location to access personalized training and support. This encourages compliance and reinforces learning, so it becomes second nature to do the right things in the right moments  — even in pressure-cooker situations.
Capitalize on momentum. To keep deals moving forward, make it easy for reps to quickly personalize a deal with content, customer stories, and even a mutual action plan. The ability to see who on the prospect side is interacting with the content delivers an extra layer of insight that helps reps create personalized and timely follow-up messages.
Managers and enablement leaders
Get a singular view of risk profile. Managers should always have a bird's-eye view of all deals the team is working on, as well as their risk scores.
The ability to zoom in on the deal stage and see specific at-risk deals helps managers see buyer-seller activity, spot check messaging, and even listen to calls. This makes it crystal clear where to step in with support that makes a noticeable difference.
Discover what customers really care about. Say goodbye to guesswork by diving into critical moments in a call, from talk/listen time to prevailing topics and themes. The flexibility to unpack sound bites of interest fuels targeted enablement and better collaboration with product and marketing teams.
Improve sales coaching and readiness. Getting a complete picture of team skills, competencies, and shortcomings helps pinpoint who needs extra support, so you can proactively recommend exercises and content to fill knowledge gaps and create a team of top performers.
How can you pressure-proof your revenue team?
Sales reps are under non-stop pressure to meet (or exceed) their quotas, stop revenue leaks, and be on call 24-7. There's no doubt that level of pressure degrades peak performance.
Sales teams have many ways to collect data to help them sell smarter — perhaps too many — but if they can't easily ingest and act on the insights buried within, the data isn't going to move the needle on performance.
Mindtickle combines revenue intelligence and sales readiness into one platform, giving you one source for deal intelligence to deeply understand team performance, readiness, and skill development.
Want to see it in action? Get a quick demo from our revenue intelligence experts.
There's a lot riding on your revenue intelligence solution. Watch the video below to discover four mistakes you should avoid when choosing a partner to work with.
FAQs
What is revenue intelligence?
Revenue intelligence provides the deep insights needed to focus sales reps, accurately forecast revenue, and fast-track deals. It gives you complete visibility into your pipeline health and deal risks, such as competitor mentions or objections, so you can provide reps with the coaching, content, and training they need to drive deals forward.
Why are the benefits of revenue intelligence?
Key benefits of revenue intelligence:
Data integration: Revenue intelligence frees you from relying on instinct or opinion by integrating sales, operations, and marketing data into a central location so you can get a full picture of every buyer-seller interaction and a deep-dive into every deal.
Efficient workflows: It helps your sellers and revenue leaders act on data faster by building insights on things like buyer engagement, objections, and competitor mentions into their overall workflows.
Sales readiness: It gives reps easy access to the coaching, content, and training needed to drive deals home.